Irbid Cultural Center (ICC)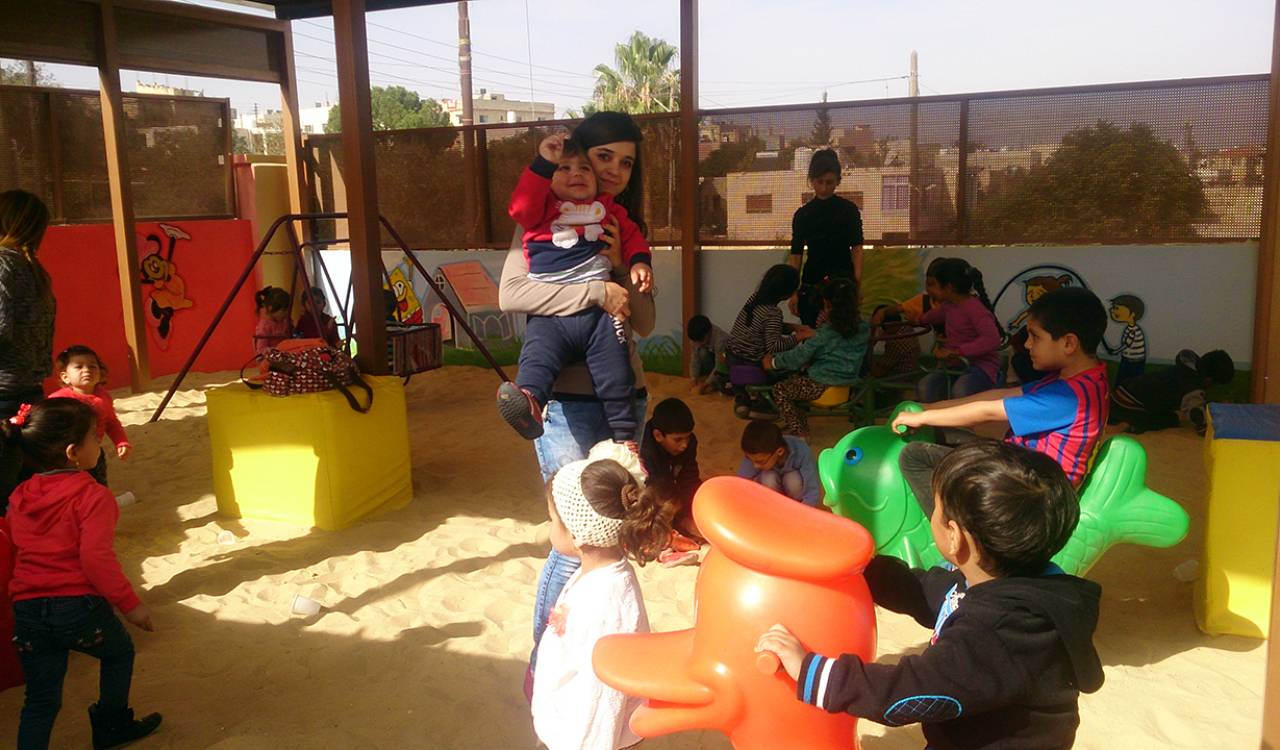 The Arab Center for Consulting and Training Services (ACCTS) / Irbid Cultural Center (ICC)
Location: Irbid Governorate – Al-Husn
Address: King Talal Street / Al Mansheyah
Mobile: +797166150 / +770640144
Introduction:

It is known worldwide that women and children are the most affected category during the armed conflicts in any country. Since the crisis in Syria has taken its armed, violent and cruel form, women started to face the progressive damages day after day. From the loss of a father, or a brother, or a husband, or a son ... etc., to the pain of the catastrophe; its shock and psychological effects. To the consequences following, where women had to replace the man who is absent or missing, or a martyr.
Here the responsibility increases with its burdens, where the wife becomes a mother and a father to her children at the same time. And the girl becomes the family breadwinner, besides the suffering which women experience after having to flee home along with her family, and seek refuge in inappropriate places to live. Plus the difficulties which accompany this displacement.
The war does not pass unnoticed by the children, but it raises in their minds many intractable questions and instills fear and anxiety in them. Besides, dealing with children who have witnessed the impact of war on their parents is much harder.
We all know that the Syrian crisis has held, within its folds, murder, and distortion. The conversations Syrian children relay indicate the psychological impact of war on them since they live in a continuous state of horror as a result of the scenes of violence saved by their memories.
In cooperation with our partners, the administration of the Arab Center for Consulting and Training Services (ACCTS) had the urge to help those two categories (women and children) in order to mitigate the effects of the crisis on them in particular and the family in general. Therefore, it has been decided to set up a branch in Al-Husn; a Cultural Center in the north of Jordan that can serve the affected groups as well as the Jordanian chaste families.
Vision:
This center exists to be a house of safety and stability in order to seize the opportunity to engage in the community, learn and acquire the necessary skills to enable women to achieve their goals in life.
Mission:
We seek to provide moral and material support to mitigate the effects of the crises and the harsh conditions on those who suffer consequently by helping them get involved in the community and coexist, also to find them a safe environment to communicate with others without fear or mental disorders.
Goals:
1. Caring for women in terms of social, psychological and cultural needs.
2. Providing technical training support conducted by specialists in various fields.
3. Providing unofficial educational opportunities for targeted students and enhancing their spirit of learning.
4. Helping children of beneficiaries' families to live a normal, healthy childhood life in a safe environment through the provision of safe playgrounds especially for them, and the various activities which develop their different talents.
In order to achieve the above goals, we conduct the following activities in the center free of charge.
1. Sewing training program:
It aims to equip the targeted beneficiaries with professional sewing skills that may help them in the future. So that they can launch their own income-generating projects; through producing and selling relevant stuff, or provide any other related services.
And since they can repair their own clothes after the course, they don't need to depend on external sources, such as a tailor, which will eventually help them save money for other basic needs.
2. Basic Engineering (Plumbing & Electricity):
It aims to equip beneficiaries with basic engineering skills such as sewage, water, and basic electrical maintenance. This should minimize their need to seek and commission external vendors and service providers to conduct relevant basic maintenance works at their houses, which in return supports their resilience as they can save some money which they can use to secure some other basic needs.
3. Soap Making:
This vocational training aims to equip beneficiaries with up-to-date knowledge and practices on making quality soap items that use ingredients from the nature (such as natural olive oil & herbs) in the production of soap with no chemical additions.
Beneficiaries learn how to create their own soap and therefore, they do not need to buy expensive soap anymore from the supermarket, which helps them save some money. The center also encourages beneficiaries to establish their own workshops at their houses. So that they can use this business to gain some income and support their living costs.
4. Handcrafts:
This program focuses on training beneficiaries on how to manufacture handicrafts; such as the formation of beads accessories, and natural straw art which is used for the manufacture of shapes and multi-functional dishes by specialized trainers in this field. This training aims to provide the trainees with basic skills in the handicraft industry in order to enable them economically and socially, because of the difficult economic situation.
5. Awareness raising sessions:
This activity includes the delivery of various awareness raising sessions in different topics that are of high concern to beneficiaries. The awareness raising session will be related to priority topics in health, legal support, psycho-social, and other areas of interest to beneficiaries.
6. Psycho-social support:
The ICC serves vulnerable beneficiaries who passed, or are passing, through a different level of hardships in their lives. Psycho-social support will be provided to beneficiaries who have such mild to moderate psychological symptoms. The support is provided through the one-on-one approach and group therapy. A trained and licensed psychologist will be hired by the community center for this reason.
7. Catch up classes (Math):
The relevant lessons are intended to improve educational performance, for Syrian and vulnerable Jordanian students who are enrolled in the official system of education. For this reason, the community center will conduct support classes for the targeted students who struggle with mathematics and science subjects. The community center will contract experienced teachers to deliver relevant catch-up classes, which will be aligned with the formal education curricula.
8. Children activities:
The staff of the center explores ways of supporting visiting children on psychological, educational and social levels. So that they can regain normalcy of life and live healthy childhood through well-organized related activities.
9. Preschool program:

The preschool curriculum at the center is designed to encourage four-, and five-year-old children to be imaginative, energetic, inquiry-based learners who explore the classroom environment with curiosity and purpose.
Preschoolers are eager to learn, and all activities are designed to involve and engage these children with interesting lessons, materials, and games. Throughout the day, physical, cognitive, social, and emotional development activities are nurtured in a warm, caring and safe environment, providing children with the early skills to become lifelong learners. Daily activities are scheduled in the large and small groups to promote socialization and community building. Children engage in conversations with teachers and friends daily, learning to take turns, listen and share. All activities are well planned to prepare children for a smooth transition to school.
Through the above activities, we seek to be peacemakers in different concepts:
1. By addressing awareness lectures related to women's role in their families and in their society. In addition to different topics related to the relations within the family, in an attempt to be peacemakers for the sake of family members' unity and harmony.
2. By empowering women with knowledge and certain skills, we support the whole family to have peace and financial stability. By having their own small profit income-generating projects.
3. By involving both Syrian and Jordanian women and children in all related activities held in the center: sitting together, studying together, training together, and playing together.
We are peacemakers for that we help them accept each other, and live together in peace and harmony.